WFA / Decideware Scope of Work Survey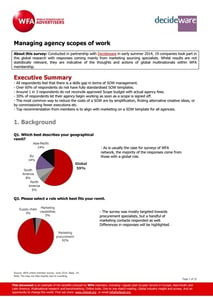 The World Federation of Advertisers & Decideware conducted a survey of major advertisers. The survey sought to provide a better understanding of important issues regarding how major advertisers manage their scope of work programs.
The survey, sent to a sample of their member companies across Europe in February 2014, provided a number of insights into the beliefs and behaviours of marketing procurement executives managing scope of work programs.