2013 ANA Thought Leadership Magazine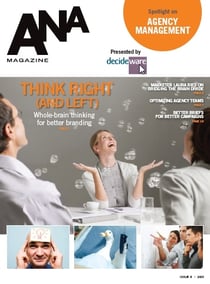 "Optimizing Agency Teams: A Decade of Change" by Richard Benyon explores the new models for managing multiple agencies to ensure that there is one voice for the client across all consumer touchpoints. The article also touches on the key processes that can assist in the implementation of these new agency models.
"How to Build an Effective Briefing Program" also by Richard Benyon explores the argument that the better the brief, the better the work that will come out of your agency. The article touches on the three key elements for creating a successful briefing program as well as key traits that comprise a quality program.