2011 ANA Thought Leadership Magazine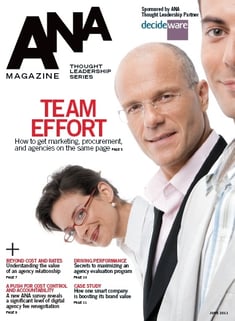 "Beyond Cost and Rates: A Practical Guide to Understanding the Value of Agency Relationship" by Steven Wales overviews the value of agency relationship and looking beyond the traditional theory of cutting costs. The article explores the "value equation" which views the overall worth of each individual agency relationship.
In "Driving Performance: Key Insights on How to Maximize an Agency Evaluation Program", Richard Benyon interviews Ken Lloyd, author of Performance Appraisals and Phrases for Dummies for his perspective on agency evaluation programs and how to maximize the evaluation process.